RRJP Locations and Methods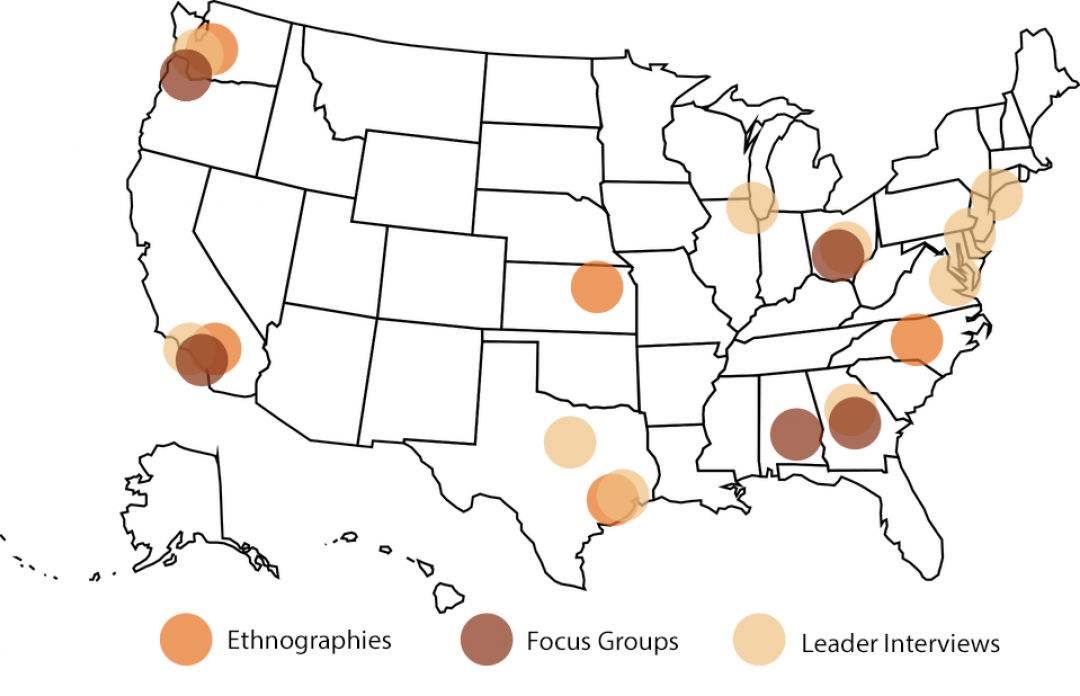 Locations
Our research included interviews with 115 leaders and experts in ten cities, a nationally representative survey of 3260 individuals, focus groups with 119 congregants in seven cities, and ethnographic studies of churches in four cities.
Methodologies

The RRJP was a multifaceted research study, with data collected in 2019-2020. It focused particularly on Christianity, by far the largest religion in the United States. The research consisted of several methods, designed to provide multiple lenses on the issues. One of the primary goals was to duplicate and expand the research Dr. Michael Emerson collected in 1999 (which was the basis for the book Divided by Faith) in order to see if/how racial dynamics in Christian organizations have changed over the last 20 years. Altogether, the methodology and collected data provided us with an unprecedented breadth and depth to issues of race and religion in the contemporary United States.

National Survey
We conducted a national survey of 3260 adult Americans. Due to the purposes of our work, we oversampled Asians, African Americans, Hispanics, and practicing Christians. A weight variable was constructed that when used means the survey is nationally representative and can be used to provide reliable estimates. This survey, because it was conducted on-line, allowed us to use visuals and conduct several experiments within the context of the survey (such as respondents reacting to different types of music, photos, and wordings). The survey content focused heavily but not exclusively on issues of race, immigration, and faith.
Focus Groups
We are conducted filmed interviews with approximately 119 congregants in 7 cities across the country, typically done in focus groups lasting two hours. We set up multiple types of focus groups—from all African American female groups to racially and gender mixed groups and more. Our goal was to capture as best as possible the extensive diversity of peoples, to examine whatever commonalities and differences arise across people and groups.
Ethnographies
We are conducted extensive observational research (ethnographies) in four churches in different regions of the United States. These congregations were strategically selected to provide variation in types of Christian churches and types of racial diversity found in the United States. Researchers "embedded" themselves in these congregations for a least a month, attending worship services and other meetings, reading materials, talking to congregational leaders and parishioners, and learning the congregation's history. The overarching goal was to understand the place race and faith play in the life of the congregation, be that seemingly none at all to a dominant role.
Leader Interviews
We conducted filmed interviews with leaders and experts across the U.S. This method allowed us to dive deep into issues within particular churches, providing data our others stages did not provide. Examples of the individuals we interviewed:
80 leaders/experts on the Collaboration Team. These interviews averaged 1½ to 2 hours.
35 church staff members in three churches, averaging about 2 hours each.